InfoPath Replacement: The Time is Now
As you probably know…
Microsoft ended development of InfoPath Forms with InfoPath 2013, leaving people who had developed forms – sometimes 1000's! – a bit in the lurch. Microsoft says InfoPath will be supported until 2026. However, no new features are being added. There is no guarantee that future enhancements to SharePoint and Office 365 won't prevent some InfoPath features from working.
In other words, it is time to move on from InfoPath.
The reasons Microsoft has deprecated InfoPath are many. In short, it uses an old technology that is not adapted to the cloud and mobile world we live and work in now. Many articles online go into the technical details (even in Wikipedia). Rather than belabor those details here, let's focus on how to replace InfoPath forms with modern, rich forms.
NITRO Forms – InfoPath Replacement
Our recently released NITRO Studio, with its built-in NITRO Forms, turns out to be one of the most viable options for moving off InfoPath. You can quite easily replace those old forms with NITRO Forms that retain or replicate — or better yet, improve on — the functionality that the InfoPath forms provide.
How?
NITRO Forms allows you to design and implement custom forms in SharePoint and Office 365. It comes with a WYSIWYG Forms Designer where you can easily create forms using drag-and-drop controls. The Forms Designer has options for tabs, sections, themes, action buttons, scripting, permissions, and many other features that give you the ability to create the forms you need.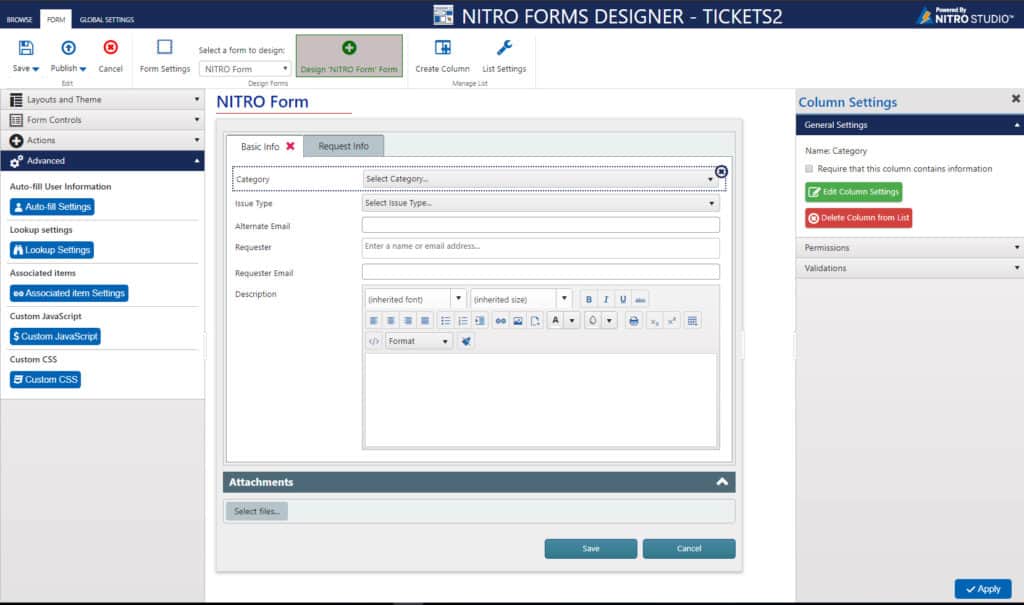 NITRO Forms provides a friendly interface for users to create, edit, and view SharePoint list items. The forms do not "inject JavaScript" when a standard SharePoint form loads, as many forms "solutions" do. Instead, NITRO uses the latest CSS and HTML to allow a high degree of flexibility and control of the display. NITRO Forms also only loads the data needed, not the full SharePoint item contents, thereby accelerating load time and performance.
NITRO Forms can connect with data sources in or out of SharePoint. The forms can link associated items, implement cascading lookups, allow multiple forms on one list, and much more. The Forms tool comes from Crow Canyon's nearly one dozen years building applications on top of SharePoint and Office 365. It is a low-cost, easy-to-implement solution for replacing InfoPath forms.
Moving off InfoPath forms
It makes sense to start the move off InfoPath to the modern, rich, mobile-friendly forms that NITRO Forms can provide. NITRO Forms is part of NITRO Studio, Crow Canyon Software's suite of apps that enhance SharePoint and Office 365. NITRO Studio gives you the power to easily create the applications you need.
See this article for the practical steps for Moving off InfoPath Forms.